Fleece can be a wonderful alternative to loose or disposable bedding. It is more cost efficient, easier on piggie feet and lungs, hypoallergenic and better for the environment. It is just as important, however, to select good quality and long lasting fleece options to prevent injury to your furry babies, your washing machine or your wallet. Not all fleece is created equal!
Using plain fleece blankets made for lounging on the couch or strips of fleece purchased from your location craft store will only lead to wet, smelly cages and unhappy guinea pigs. Fleece must be wicked and have a proper absorbent layer.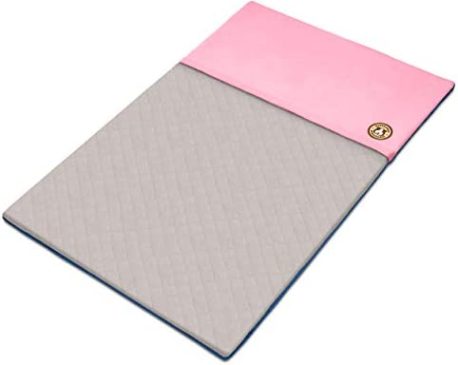 We use them in all our foster and personal piggie cages!
Guineadad Fleece Liners
Guineadad is a great Guinea Pig business based out of California in the United States. A set of piggie loving friends decided to create better products for small animals.
Guineadad liners come in pre-determined sizes based on Midwest and c&c cages (14 inch cubes). Multiple fleece liners can be used for larger or custom cages. Larger sized fleeces come with a soft hidey pocket. All of the liners have a "proprietary bamboo blend" inner layer that helps to wick away moisture and control ordors.
While the Guineadad fleeces can be an investment, we find them to be the most effective and long lasting options for your base fleece layer. We use them in all our foster and personal piggie cages.
Learn more about these liners at www.guineadad.com
Custom Fleece Liners
Another option when switching to fleece bedding is to order custom or hand-made liners from stores like Guinea Pig Cages Store or Etsy. Super crafty piggie owners can also sew their own fleece liners with a bit of skill and some materials.
Typically these fleece liners will be made using U-Haul or moving pads inside. This layer provides awesome moisture absorbency and helps to control odors. The outer fleece can either be created with no-pill or polar fleece and will need to be wicked before use to ensure moisture can seep down to the middle layer.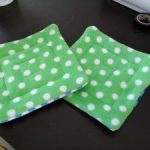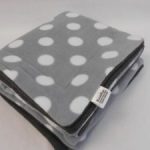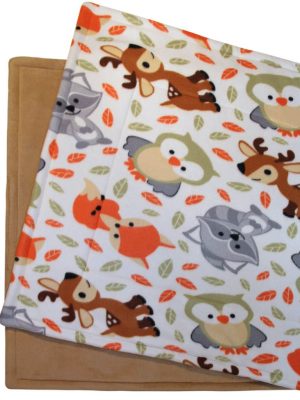 Wicking fleece is easy! Place in washing machine with clean and clear detergent, wash on HOT and dry in dryer once. Test the fleece by pouring a small amount of water on it. Still sitting on the surface? Repeat the hot wash and air dry until the water is absorbed into the fleece.
When purchasing custom fleece liners it is important to read the description carefully for size, shape and materials used. Some seller will use feet and inches while others will cube cube/cage size instead. If c&c cage sizes are used, look to see if they specify the size cubes measured. For those creating the liners, remember to make them just a little bit bigger than the space requires as all fleece will shrink slightly once wicked/used.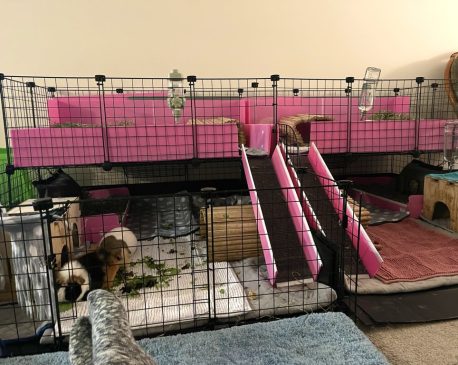 In our personal cages, we use a mix of Guineadad, smaller custom fleece pads, noodle rugs and kitchen areas to keep things clean and dry!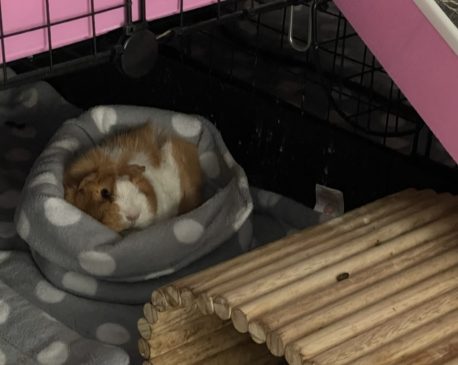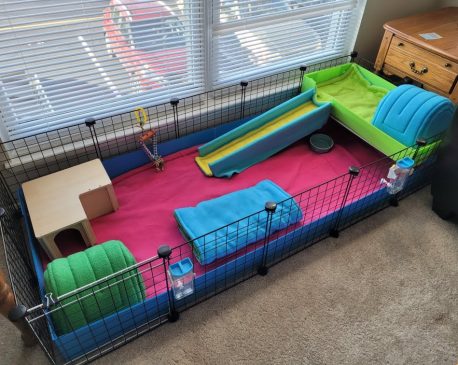 Making Fleece Work
Here are some answers to the most common questions and concerns we see about using fleece:
How often do I need to change and wash the fleece?
Fleece users typically change or "flip" their cage once a week. This includes removing and replacing all of the fleece and pads, changing any kitchen bedding and wiping down the plastic bases, bowls and accessories.
Will it ruin my washer?
Using fleece does not have to ruin your washer and dryer! The key to proper fleece use is to remove the larger debris prior to washing. This can be done with a vacuum, a stiff brush or roller. By removing the poop, hay and other solid debris this keeps it from the washer. It is also important not to overload the washer or dryer, so know your appliance's limits.
Another option is to use a laundry bag specifically made for animal laundry. They can be purchased at a number of places including amazon.
Does it smell more/is it harder to clean?
If fleece is managed correctly, it controls ordor extremely well and keeps the cage clean and dry. Fleece liners can be extended to last the week by placing "mini" pads in high traffic areas. These areas include where the piggies eat and sleep (like inside hides and under bowls).
Both Guineadad and sellers on Etsy offer pads for this exact reason. They can be purchased in small versions (12″X12″) or larger that cover 2 cubes by 1 cube. These pads can be changed out daily to provide dry spaces for piggies without a full flip!
Is fleece healthier than other bedding options?
According to the collection of highly skilled vets that work with our rescue, well maintained fleece is the healthiest option available. It is recommended for piggies with bumble-foot, respiratory issues and silkie syndrome. Guideadad specifically is anti-bacterial and anti-microbial.
Fleece liners are also much better for the environment, limiting the impact to the water and energy used to wash them. They remove the need for disposable bedding sources and additional waste.
Can I use fleece blankets instead of liners?
It is NOT recommended to use fleece blankets made for human use as guinea pig bedding. They are not designed to wick moisture and will not move the moisture away from piggie feet with an absorbant layer. Placing puppy pads under blankets is not enough to ensure a comfy and safe environment.
We also do not recommend turf, outdoor carpets, newspaper, rubber-backed mats, towels or any other alternate bedding source.
Where can I buy the moving pads?
Cheaper moving pads for the inside of hand-made liners can be purchased on amazon or in U-Haul stores. Be sure to line both sides of the pads with fleece to prevent piggies from chewing.