Find the Next Furry Love of Your Life
Review the info below and click on the link to access our adoption application today! Before adopting, please review our requirements HERE.
An email will be sent to the address on the application within 72 hours of receipt. Email staff@tunasguineapigrescue.com with questions.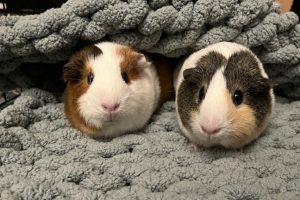 Moco and Coco
Moco: born 2020, American, female
Coco: born 2020, American, female
Moco and Coco came to us as a surrender from family moving overseas. They were purchased together from a pet store and are still warming up to fresh veggies. Coco is more outgoing and Moco a little shy, but both enjoy snacks and floor time with their foster family. These girls would make a lovely addition to any family!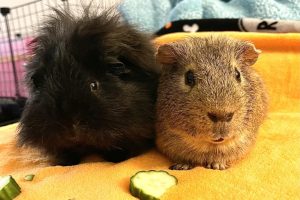 Sirius and Prongs
Sirius: born Aug 2022, Texel, male
Prongs: born in 2020, American, male
Prongs came to us in severely poor health, severely malnourished and missing some front teeth. He has made an amazing recovery and is now bonded with his best friend Sirius. They boys love treat, playing with new toys, and Prongs even enjoys nose scratches!
Due to Prongs history and Sirius' long Texel hair, these two are considered special needs and will require an owner experience with grooming and animal care.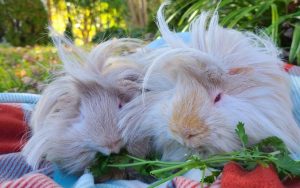 Darwin and Albert
Darwin: born 2018, Peruvian, male
Albert: born 2018, Peruvian, male
These adorable brothers were transferred to the rescue from a local shelter went their owners could no longer care for them. Darwin is more outgoing and loves chin scratches from his foster mom. Albert is more reserved by very sweet. These boys are long-haired Peruvian and will require a forever home with someone experienced with grooming.
Darwin is considered special needs due to a small sebaceous cyst and is under a vet's care. This is not harmful and does not impact our little friend.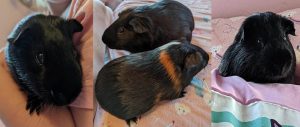 Pepsi and Root Beer
ADOPTION PENDING
Pepsi: born 2017, American mix, male
Root Beer: born 7/2022, American, male
Pepsi came to us after his cagemate passed away and was very sad. Luckily, a set of baby boys had just been pulled from the shelter and he found a brand new friend: Root Beer! These two have been lovingly bonded since day one, and Pepsi is teaching Root Beer how to be a great guinea pig. These boys LOVE treats and snuggling with their hoomans!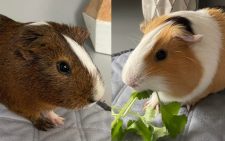 Kermit and Fozzy
Kermit: born 2021, American, male
Fozzy: born 2021, American, male
Kermit and Fozzy are a 1.5 year old bonded pair of males. They came to us when their owner had to suddenly move out of the country. They are very closely bonded, love treats and enjoy interaction. This pair will make a wonderful addition to any family!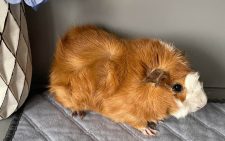 Gonzo
Gonzo: born 2021, Abby, male
Gonzo is a single male who came to us when his owner needed to leave the country. He lived with cage-mates up until recently and will need to be adopted to a home with another single male or spayed female. Are you the perfect family for Gonzo?