As part of the adoption approval process, prospective adopters must provide:
A copy of their Drivers License or Federal/State ID (Address must match physical address on the application. If not, a piece of official mail may be required).
A video tour of the home interior, including all rooms and areas. This includes areas where the pigs may not access.
Current vet information and proof of vaccinations for any dogs, cats and rabbits in the home.
A fully completed Adoption Application and Adoption Contract.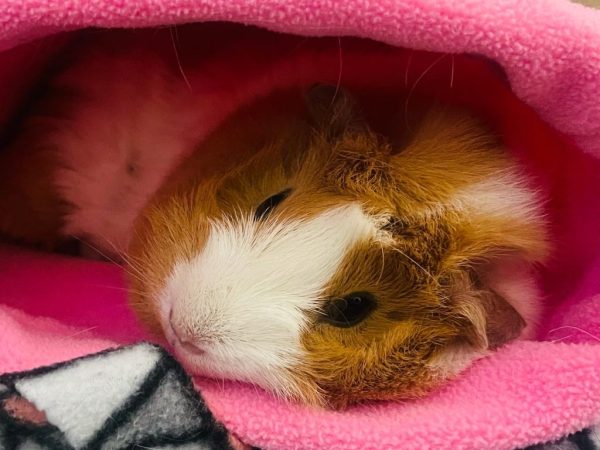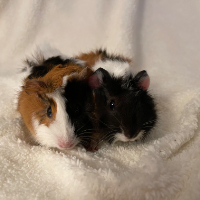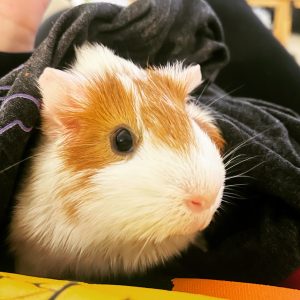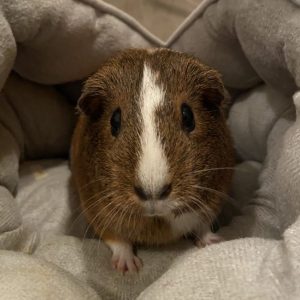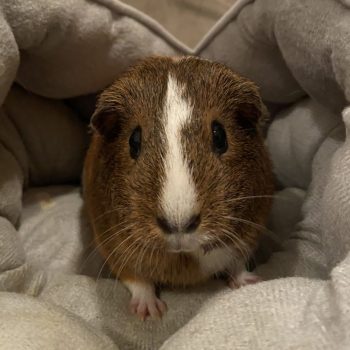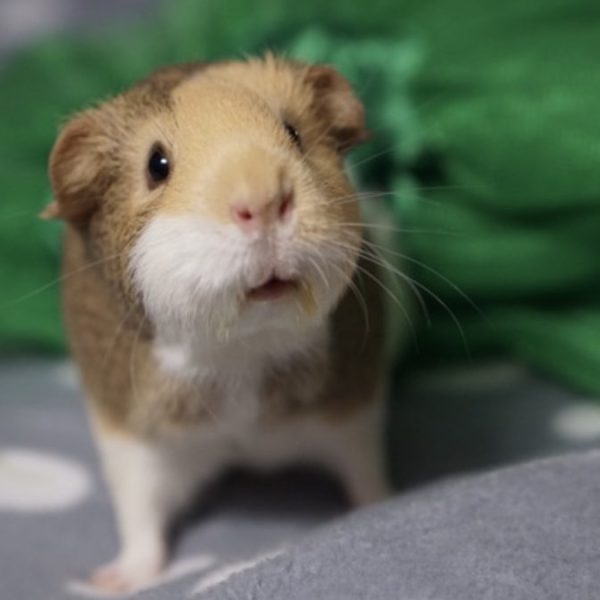 All cages must meet our minimum requirement based on the piggies adopted. Please keep in mind that these dimensions are the minimum and we encourage adopters to select the largest cage possible:
Females
| Number of Guinea Pigs | Area/Size | Grids (14″/9 Hole) |
| --- | --- | --- |
| 1 | 10.5 sq ft – 28"X56" | 2X4 |
| 2 | 10.5 sq ft – 28"X56" | 2X4 |
| 3 | 13 sq ft – 28"X71" | 2X5 |
| 4 | 16 sq ft – 28"X84" | 2X6 |
* For each piggie above 4, add at least an additional grid in length
Males
| Number of Guinea Pigs | Area/Size | Grids (14″/9 Hole) |
| --- | --- | --- |
| 1 | 10.5 sq ft – 28"X56" | 2X4 |
| 2 | 13 sq ft – 28"X71" | 2X5 |
Adopters will need to send photos of the completed cage setup to determine adherence to the requirements. We require cages to have the following:
Fleece with sewn-in absorbant layers (guineadad, etsy handmade pads, etc), carefresh bedding or kiln-dried pine bedding. No blankets, single sheets of fleece, pill-bedding or other varieties.

At least one enclosed hide per pig (we DO NOT recommend plastic "pigloo" houses).

At least one easy to access water bottle (we recommend two as available).

At least one food bowl for pellets in a guinea pig safe material.

Comprised of either connected Midwest cages OR appropriate 14 inch/9 hole storage grids and connectors for stabilization.
Please keep the following requirements in mind:
We DO NOT adopt to anyone under the age of (18). If you currently live with your parents, we ask that your parents co-apply for the piggies.
We will NOT adopt to anyone currently listed in our system as a "DO NOT ADOPT", anyone with a past or pending animal cruelty charge/case, or to a suspected breeder.
We will contact your current vet (if you have existing pets). It is required that all pets in the household be up to date on STATE required vaccinations and have seen a vet within the last 12 months
Before we finalize the adoption, we will ask that you schedule an initial "new pet" appointment with an exotic vet within 90 days of the planned hand-off date, complete and submit the "Adoption Contract", and complete the donation for the adoption.

At this time, we can only offer transport assistance within 2 hours of Virginia Beach, VA. Prospective adopters will need to meet volunteers in that radius. We adopt to individuals as far as Washington DC, Charlotte NC and select locations south of Virginia Beach.
After reviewing the requirements, go HERE to apply.